CRUSH Hypophosphatemia
PHOXILLUM renal replacement solution is shown to reduce hypophosphatemia,1 solution preparation time,2,3 and potential for errors4* when treating acute kidney injury (AKI) patients.
*Due to manual compounding
The Impact of Persistent Hypophosphatemia During CRRT on ICU Outcomes
50-80%
of patients develop hypophosphatemia during RRT5-7, and even patients with initial hyperphosphatemia may become hypophosphatemic when phosphate-free solutions are used8
81%
increase in prolonged respiratory failure requiring tracheostomy [(OR) = 1.81; 95% CI 1.07-3.08]9
1.45-fold
increase in 28-day mortality with patients who experienced "high frequency" hypophosphatemia (≥ 58% of therapy days, p= 0.008)5 
PHOXILLUM is the ONLY FDA-approved premixed CRRT replacement solution with phosphate in a 5L bag.
Reduced Hypophosphatemia
Multiple studies around the globe have shown that phosphate-containing solutions reduce phosphatemia. In the largest evaluation of hypophosphatemia in critically ill patients requiring CRRT to date, data from 1,396 adult patients (single-center, retrospective, sequential period cohort) showed:1
A significant and independent association between the use of a phosphate-containing solution and reduction in incident hypophosphatemia, duration of ICU stay and mechanical ventilation (p < 0.001) 
Use of non-phosphate solution was associated with an 8.5 fold increase in hypophosphatemia (OR 8.53, 95% CI 6.29-11.57, p = 0.0001)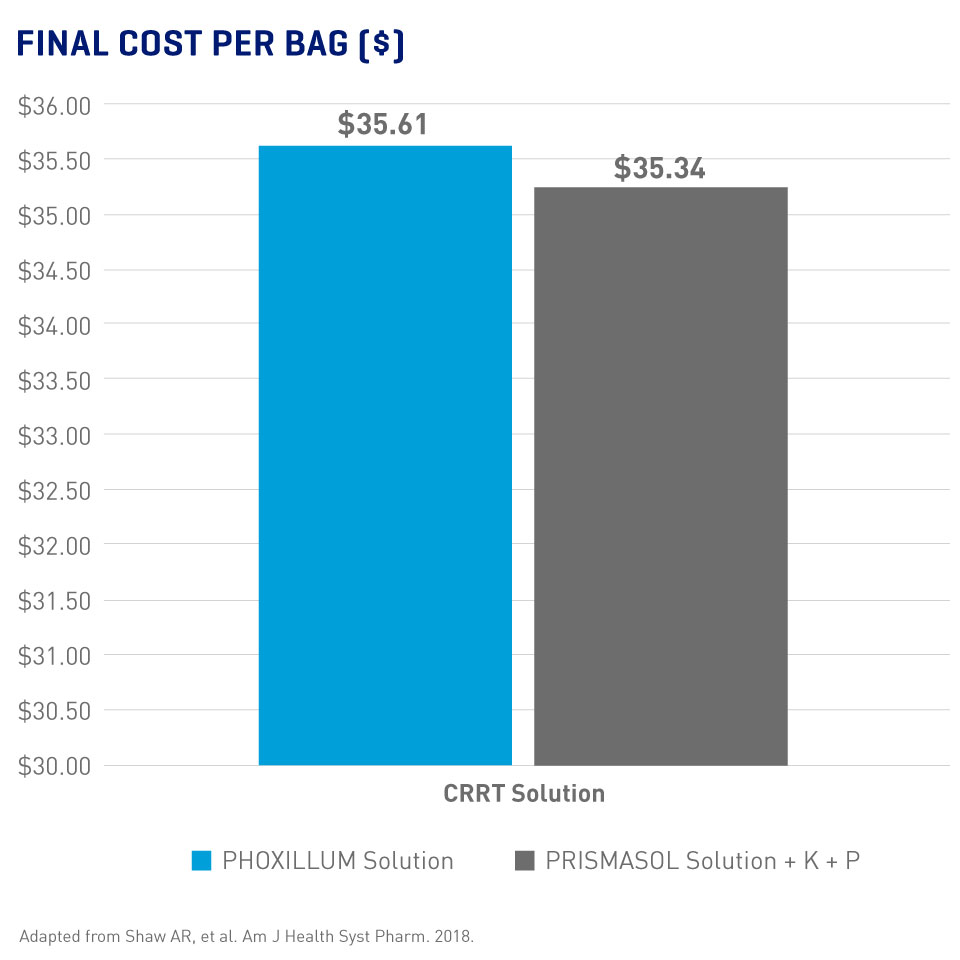 Pre-mixed Solutions = Less Preparation Time Without Necessarily More Expense
A study of CRRT solutions that included (1) PHOXILLUM solution with no electrolyte additives, (2)  PHOXILLUM solution with added bicarbonate, and (3) PRISMASOL solution with added potassium chloride and sodium phosphate (control) showed:**
Significantly reduced average technician time with the current PHOXILLUM bag design (45 sec. vs 179 sec with PRISMASOL solution, p < 0.0001 for both comparisons)3
Similar final costs for PHOXILLUM and PRISMASOL solutions (Final costs included base solution, additives, supplies, and personnel per 5L bag)2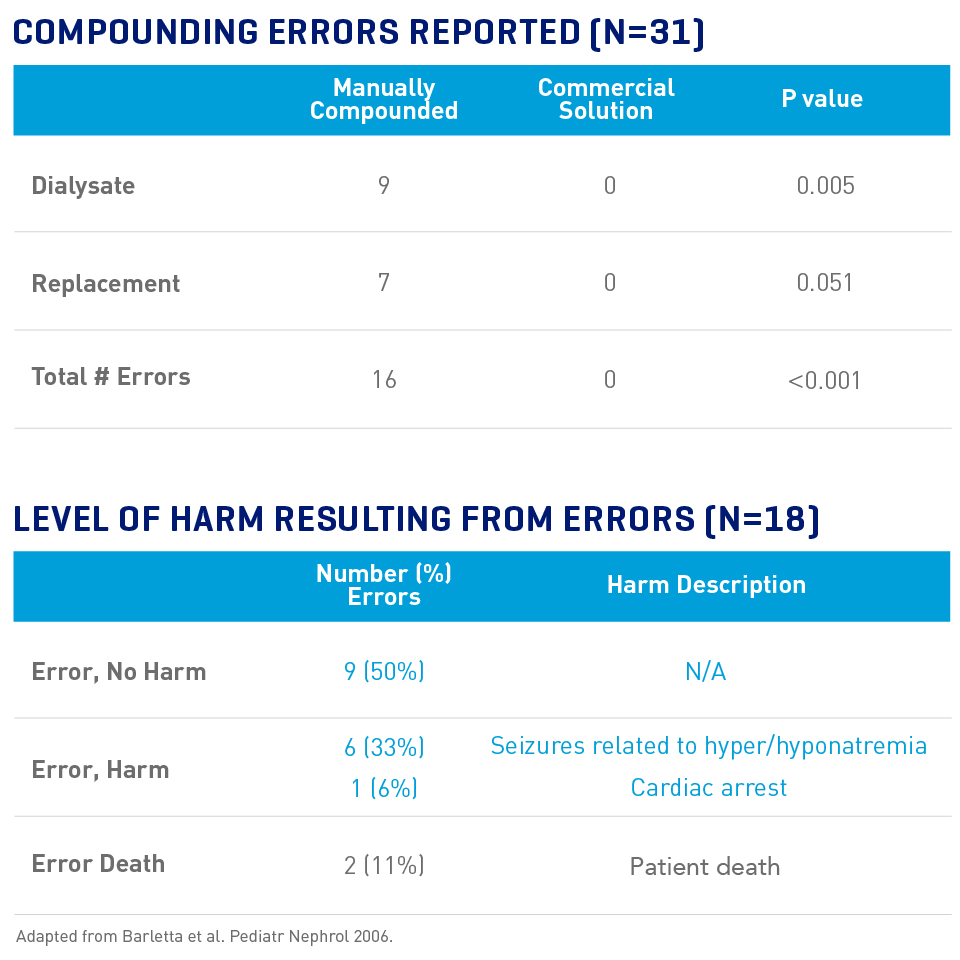 Fewer Errors Are Reported With Pre-mixed CRRT Solutions
An Internet survey of CRRT medication errors in 31 programs reported:10
58% of programs reported at least one error (2 anticoagulation, 16 compounding)
89% of reported CRRT solution errors were due to compounding
All errors occurred in manually-prepared solutions; 0 errors were observed in pre-mixed commercial solutions
56% of compounding errors resulted in patient harm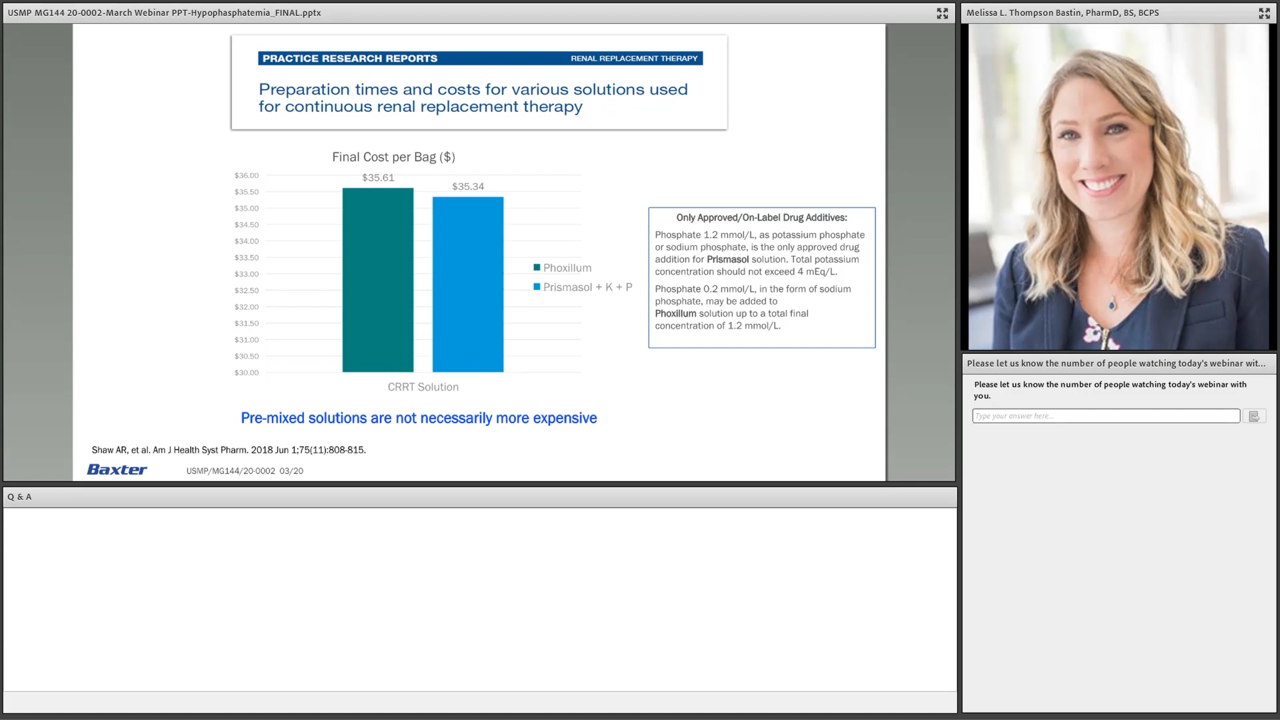 Preventing Hypophosphatemia and Improving Patient Outcomes in CRRT
Dr. Melissa Thompson Bastin discusses managing phosphate levels and preventing hypophosphatemia in CRRT, as well as how and when to implement Baxter's renal replacement solutions.
** Please note that the only approved additives are:
PHOXILLUM Solution: phosphate up to 0.2  mmol/L sodium phosphate not to exceed 1.2 mmol/L.
PRISMASOL Solution: up to 1.2 mmol/L of phosphate added as potassium phosphate or sodium phosphate. Total potassium should not exceed 4 mEq/L. 
PHOXILLUM and PRISMASOL Renal Replacement Solution Indications and Important Risk Information
Indications and Usage 
PRISMASOL and PHOXILLUM solutions are indicated in pediatric and adult patients for use as a replacement solution in Continuous Renal Replacement Therapy (CRRT) to replace plasma volume removed by ultrafiltration and to correct electrolyte and acid-base imbalances. They may also be used in case of drug poisoning when CRRT is used to remove dialyzable substances.

Warnings and Precautions 
Electrolyte and Volume Abnormalities
PHOXILLUM and PRISMASOL solutions can affect electrolytes and volume and may result in hyperkalemia or hyperphosphatemia. Monitor hemodynamic status and fluid inputs and outputs, potassium, phosphorous, calcium, other electrolytes and acid-base balance throughout the procedure. Abnormalities may be corrected by changing the formulation of replacement solution and/or dialysate, supplementation, or adjusting flow rates appropriately. PHOXILLUM replacement solutions contain hydrogen phosphate, a weak acid that may increase the risk of metabolic acidosis.

Blood Glucose Abnormalities
The use of PRISMASOL and PHOXILLUM replacement solutions can affect blood glucose levels resulting in hypo- or hyper-glycemia depending upon the dextrose content of the replacement solution. Monitor blood glucose levels regularly. Patients may require initiation of or modification of antidiabetic therapy or other corrective measures during treatment.
Please see PHOXILLUM and PRISMASOL Solutions full Prescribing Information.
Please see PRISMASATE Instructions For Use.
Prismasate is a sterile dialysis solution intended for treatment of acute kidney disease (renal failure) using Continuous Renal Replacement Therapies, such as continuous hemodialysis and hemodiafiltation aimed at normalizing the composition of the blood.