Renal Acute Learning Pathways
After completing our Learning Pathways, you will have more confidence in optimizing your CRRT program. Our learning pathways are designed to enhance your learning experience and help you be more efficient with your time. Select your Learning Pathway based upon your specific learning needs. We offer Pathways to train those new to and more experienced with AKI and CRRT therapies, as well as renal acute technologies. Additionally, training and troubleshooting support resources can also be accessed for hospital educators and broader on-demand troubleshooting. 
Login credentials (username and password) are required to access our Learning Pathways. In order to gain these credentials you will need to create an account upon your initial attempt to access the Pathways. You will be asked for key information in order to establish your account: first and last name; email address, city and state, and institution. Additionally, you will be prompted to create a password. 
Please contact your local Therapy Development Specialist if you have questions about our Learning Pathways. For access questions, please contact [email protected]. 
Once you have established an account, you can login at any time using your username and password to access your relevant Learning Pathways.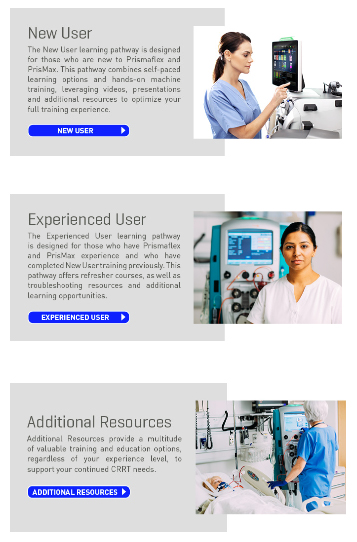 1. Select your Learning Pathway
Select the appropriate Learning Pathway for your experience level. If this is your first time accessing the Pathways, you will be prompted to register for an account.
New User
The New User Learning Pathway is designed for those new to Prismaflex and PrisMax. This pathway combines self-paced learning options and hands-on machine training, leveraging videos, presentations and additional resources to optimize your full training experience.
Experienced User
The Experienced User Learning Pathway is designed for those with Prismaflex and PrisMax experience and have completed New User training previously. This pathway offers refresher courses, troubleshooting resources, and additional learning opportunities. 
Additional Resources
Additional Resources provide a multitude of valuable training and education options, regardless of your experience level, to support your continued CRRT needs. Hospital educators may also benefit from accessing these resources.
2. Sequenced Training Curriculum
Upon selecting your Learning Pathway, you will be presented with a sequenced training curriculum. We recommend taking the courses in succession from Pre-Training to Core Training, and finally Post-Training. Post-Training options should be taken after completion of Core Training Events. Learner and Educator Resources are available for access at any time.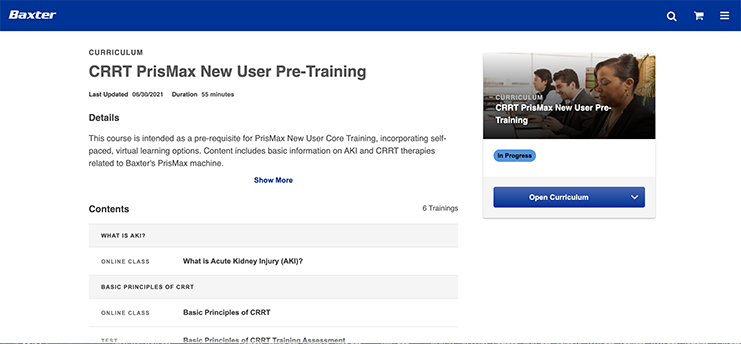 3. Begin Your Training
Click on a curriculum to access its various training opportunities. To begin training click on Open the Curriculum to access and launch training for completion.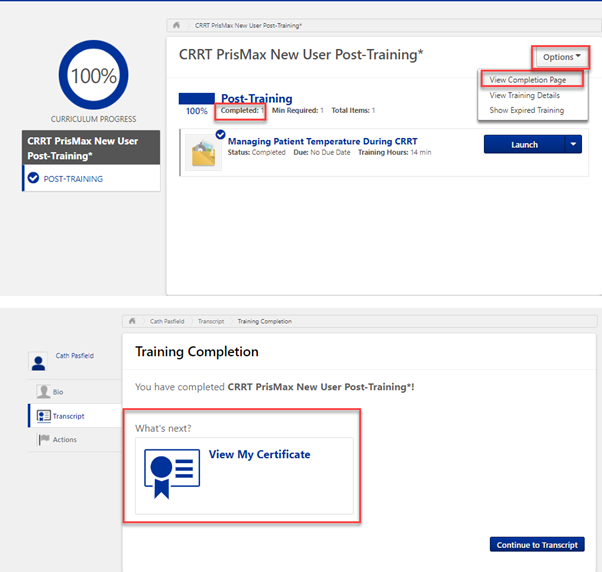 4. Complete Your Training
Your curriculum progress will be noted. Once training is complete, you may be prompted to take a brief assessment and/or mark your training completed. Training course completions will be tracked and certificates for completed training can be printed at a course and / or Learning Pathway level.